I just got done running the OKC Memorial Half Marathon and it was QUITE the experience. Saturday, I went to the race expo. I was expecting it to be pretty small, but actually it was decent and size and I had fun looking around. I found a new race I want to do simply for the bling of it! The race is called The Cowtown and is located in the Fort Worth Texas area.
The medals each year fit together to form a star. You can earn medal by completing the half, full or ultra marathon.
An individual medal
Back to my race, the expo was very crowded but full of lots of great gear.
The Expo
Mom and I picked up our race bibs and t-shirts then went shopping!
The Freebie race shirt
A practically glow in the dark shirt I bought
my bib
My mom got me my charm for the race. It's the survivor tree that's at the memorial site and is also featured on the medals



Finally we left the expo and headed home. I don't think I mentioned it before, but I was planning on walking this race because my mom was injured recently and broke a rib and bruised her kidney! She's fine (although very sore) now, but we thought it would be best for her to walk if she insisted on doing the race. I decided to make her a little sign to wear on her back to help get her the cheers she deserved!
Mom's Sign
This is where my post gets very picture-light and kind of depressing. Sorry in advance! The night/morning before the race the weather said the temps would be in the 40s to 50s and there was a 30% chance of showers. Mom and I woke up checked the weather again and decided on t-shirts and a skirt for her and thin capris for me because 50s feels like 70s when your running. Then we headed to the race and our day went completely downhill. As soon as we got there, it started to pour, and I seriously mean pour. The race was delayed for 30 minutes due to lightning, but then it started despite the fact that lightning was all around us still. The wind was blowing strong and later I heard on the news that the wind chill put the temperature at 10 degrees. Thank goodness we both brought throwaway jackets to keep us warm, but they did almost nothing for us. The rain soaked us completely through all of our layers before we hit the first mile marker. Our shoes filled completely with water, and by the end of the race we dumped out a full cup when we took them off. My feet we're completely raw because of the water inside my shoe that caused my skin to basically peel off. The cold air was terrible on my asthma and there were a few times my mom almost had to catch me because I got so dizzy. The hail started at one point and I seriously just wanted to sit down and cry until the medics came to get me.
But then I looked over at my mom. She was running with a broken rib, bruised kidney, and all of her own pain and she wasn't giving up. I told myself that if Mom could do it, I could do it. I wouldn't ruin this race for her no matter how bad it hurt. So, I tried to suck it up and keep running, but it was no easy feat. We tried making jokes throughout the race and pretended we we're running through warm sunny Disney World instead of cold and miserable OKC. We really laughed when we saw OKC's Spaceship Earth knock-off.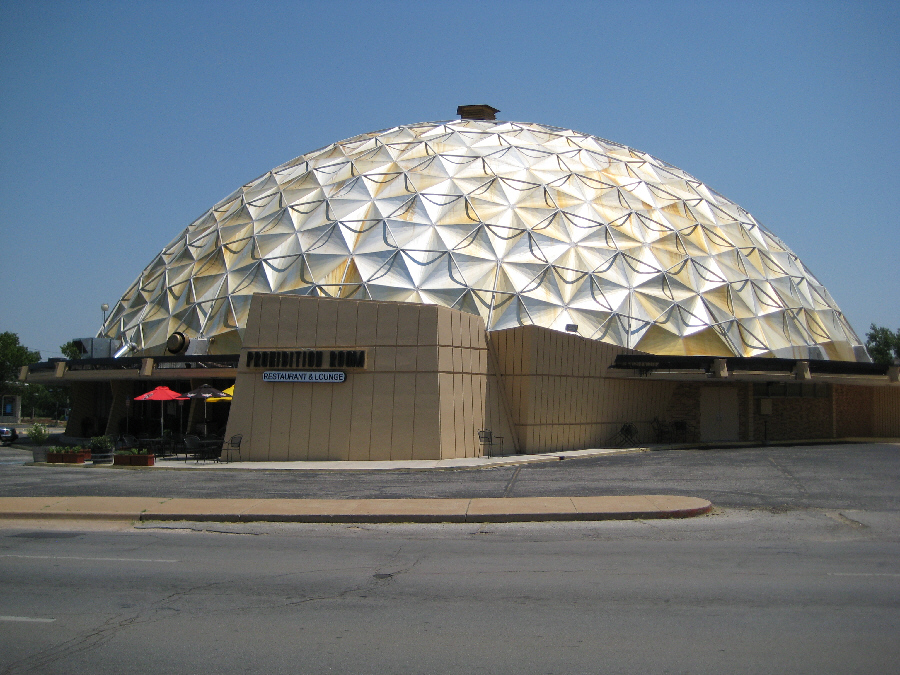 You wish OKC....
Well through some more hail, never-ending rain, thunder, lighting, and strong winds we still made it to the finish line. We weren't in good shape at all. Both of us were suffering for hypothermia and our feet had lost a lot of skin. It took us the entire day to warm back up again, but no serious lasting harm was done.
My face in this pic was my "lets try to pretend like we're not dying..... oh wait. we are" face
For all of my complaints, I'd like to say some good things about the race. The spectators were absolutely amazing. There were so many people along the course despite the terrible conditions cheering us on and providing support. I was very touched by the volunteers dedication to the runners. Another thing that really impressed me was the water stops. There were more water stops than I knew what to do with and every stop had a choice of water or powerade as well as a variety of snack to choose from like pretzels or bananas. I stuck to mostly water and powerade, but it was nice to see that they really wanted to keep runners fueled. Finally the runners themselves blew me away. The fact that anyone ran in those conditions was impressive, but to see over 30,000 voluntarily doing it to remember the lives of those who were lost was truly moving. I know this race wouldv'e been phenomenal if it weren't for the weather, but it was still pretty incredible with it.
The bling